Saturday, November 24, 2012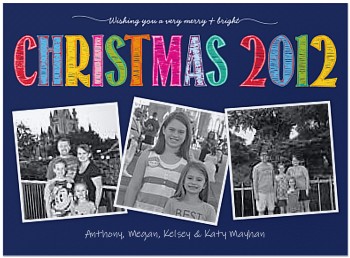 Crayon Christmas Wishes Christmas Card
Click here to browse Shutterfly Christmas card designs.

Posted by

Meg Hitt
at 9:00 PM
No comments:


Thursday, October 25, 2012
SNACKS
Boulangerie Patisserie

in France – Do not come home and tell me you missed this--this is an epic right of passage to go eat dessert at France (EPCOT) My personal favorite has always been the chocolate mousse.
Frozen Lemonade

(in all parks) – really good
Churros

at sorcerer's hat kiosk (HOLLYWOOD STUDIOS)
Main Street Bakery

–great breakfast spot or our favorite is to buy some stuff there on the way out at night at closing to have to eat in the room later or the next morning (MAGIC KINGDOM)
Sleep Hollow--

nutella waffles…need I say more?!? (MAGIC KINGDOM)
Counter Service:
Pecos Bill

in Frontierland near Splash Mountain - BBQ sandwiches, wraps, burgers, salad bar – large portions & LOTS of indoor seating! (MAGIC KINGDOM) burgers are really good.
Pinocchio Village

in Fantasyland near It's a Small World – personal pizzas with salad side – large portions (MAGIC KINGDOM) our favorite CS in all of MK
Backlot by Star Tours

burgers, turkey sandwich, salad - FREE drink refills (HOLLYWOOD STUDIOS) air conditioned seating--this one ties with ABC Commissary but we usually end up at Backlot
Toy Story Pizza Planet

– Pizza & salad– large portions (HOLLYWOOD STUDIOS) IMHO the BEST CS in Hollywood Studios--we ate here twice at the kids' insistence last time--including our last meal at Disney before we left for airport--they love it--

the Chocolate Cappuccino Cupcake is fantastic and huge which makes it a great value as your dessert on the dining plan AND (biggest plus in my book) u

pstairs at Pizza Planet is my favorite cell phone charging spot in all of WDW–get a table along the brick wall side and you will find ample outlets to charge your phone while you eat.
Cosmic Rays

– 1/2 chicken, BBQ, wraps, or burgers in Tomorrowland – large portions & LOTS of seating! (MAGIC KINGDOM)--if it's a busy time or park is crowded, head to cosmic rays--tons of INDOOR seating and lots of food options
Flame Tree BBQ

– BBQ (ANIMAL KINGDOM) DO NOT MISS--best CS in all of WDW--the food is EXCELLENT
Epcot--any of the worlds have decent CS options and Seasons at the Land is really good too--don't eat Electric Umbrella--I thought in the 10 years since I had last been to Disney that the food would have gotten better there…it hadn't. Don't be coerced by its convenience. It'

s not good.
Posted by

Meg Hitt
at 9:43 PM
No comments:


Synopsis: AK is an easy park if you're short on time--there's really only 5 or 6 must-do attractions. The rest you could miss and you wouldn't regret not seeing/doing any of them especially if your kids have been to a major zoo before (St. Louis, New Orleans, Memphis, etc,)
ANIMAL KINGDOM…If you only have a few hours…
·
Kilimanjaro Safaris® Expedition: FIRST-- DO 1ST --ASAP IN MORNING
·
DINOSAUR: Super fun ride! Line rarely is longer than 20mins plus the interactive queue is very entertaining while you wait.
·
It's Tough to be a Bug!®: DO NOT MISS (8min movie inside of Tree of Life) Some say it's scary. I thought it was awesome. Full of surprises!
·
Festival of the Lion King: DO NOT MISS—CHECK SCHEDULE OF SHOWS—30mins long—AMAZING--BEAUTIFUL--I can't think of enough good things to say about this show--not a bad seat in the theater so don't worry about being the first ones into the theater. BUT try to get out of the theater FAST so you can get in line to see the characters who are located directly outside of the exit of the theater. Have your child decide before FOLK which character is her #1 priority to see so you can rush to that line as soon as the show is over.
·
Kali River Rapids®: You will get drenched. I recommend saving it for last so you don't walk around park wet all day. Take a poncho so you don't look like a wet tshirt contestant. Also, Hubby can attest that khaki shorts become see-through when wet.
FLAME TREE BBQ: I'm adding a restaurant here because it's probably the best quick service meal in all of WDW as far as quality of food. I'm not saying it's better than Memphis bar-b-que but the meat is extremely good. Plus I just love the irony of eating meat at the Animal Kingdom which is all about conservation of animals.
·
Pangani Forest Exploration Trail®: If you have time. It's a walk through zoo part. We liked it much better than Maharajah if you have to choose between the two. It can be as long or as fast as you want it to be depending on how fast you walk through it. The reason I put it a little higher is because it's in a very convenient location at the exit to the Safari. So it's convenient as soon as you get off the safari to make a hard left into the Pangani Trail. I guess technically then I'm recommending you do this 2nd after the safari. This one has the gorillas & monkeys (and other African animals) who are a lot of fun to watch.
·
Wildlife Express Train: This is a huge time-eater but our girls enjoyed going out to Conservation Station® and Affection Section—afffection section is just a petting zoo with goats, sheep, and an occasional donkey. Rafiki does a meet & greet at Conservation Station. And it's neat seeing the vets working on the animals.
·
Finding Nemo – The Musical: Supposedly good but distant 2nd best to FOLK. We skipped this because we've seen Nemo on Ice 3 times now and everyone said it's almost exactly the same. It's 30 mins.
·
Maharajah Jungle Trek®:

If you have time. It's a walk through zoo part with tigers (this is Asian animals.)
·
Expedition Everest®: SKIP--ok don't skip if your kids are tall enough & brave enough...but my my kids would not do it. Disclosure: my brother-in-law says this is his second fav ride in all of WDW (behind Rock n Roller Coaster.)
·
Flights of Wonder: SKIP—it's a bird show. Sorry birds don't do it for me.
·
Primeval Whirl®: SKIP—it strangely has a high height requirement. This is the same "roller coaster" as is at our state fair each year so I felt no need to stand in line to do it.
·
The Boneyard®: SKIP—it's a big sandbox. Could be fun if you have hours to just hang out and let the kids play & get dirty—otherwise it's a huge time-waster with no rewarding value. They can play in the sand box digging for bones at our local zoo or even in the backyard when the dogs bury their bones in the kids' sandbox. It has a playground with some slides attached. We skip this section all together.
·
Fossil Fun Games: SKIP—walk very fast through this section—stupid carny fair games which you have to PAY extra for.
·
TriceraTop Spin: SKIP—dumbo but with dinosaurs instead
Posted by

Meg Hitt
at 9:32 PM
No comments: